March Crane Road Cliff Clean Up

Sunday 20th March 2022
81 Crane Road, Ngararatunua, Ruatangata
4,500kg! WOW!
The largest amount of rubbish we have removed!
Thank you so much to the 33 awesome E.N.F.O.R.C.E.E.R. Volunteers we had at the Crane Road Clean up.
We had to wait to get the final figure back due to inability to remove the bin and bags.
In total weight, it's the second biggest clean up we've ever done!
The biggest clean up we did was the last Raumanga field clean up and that included full car bodies. (3380kg rubbish and 4,135kg cars =7,515kg).
Taking the cars out of the figures, the Crane Road event is the biggest amount of rubbish removed that we have ever done at 4,500kg and all moved with people power!
Well done and thank you ever so much!
Thank you to Grant and the
Whangarei District Council
for picking up the skip bin and bags, and getting the final weight back to us.
February 2022 Clean Up removed 250kg
A team of 32 E.N.F.O.R.C.E.E.R.s removed over 250kg of rubbish and recycling along the Old Railway station car park and shared path to Porowini Ave.
Half of the team spread out doing the carpark and drain. Not surprising they found plenty of food packaging and bottles and cans.
The other half started in the bush area below the Porowini Roundabout.
It was great to see so many new people come along today as well as our super supportive regulars.
Curious items we found were: Bluetooth speaker, 2021 expiry KFC coleslaw… that looked good enough to eat, bread buns, cellphone, Trolley, side of a truck tire, And more.
Items commonly found: 25 face masks, parking tickets and lots of alcohol Bottles and cans.
Thank you to all of our volunteers.
June Fariburn Street Clean Up 20/06/2021
It was National Volunteer Week and we had our biggest clean up ever!!
45 E.N.F.O.R.C.E.E.R.S. turned up today and we picked up and collected 3380Kg of rubbish + 5 cars with an approximate weight of 4,135Kg which makes 7,515Kg today!
We have to give extra spacial thanks to Jamie Austin today for bringing his tractor with front end forks! This was the biggest help today and we wouldn't have been able to do as much as we did without it. Lifting couches, cars, fridges and pallets of trash.
Thank you to the Whangārei 4×4 club, who came along with tow cables and a team and were instrumental in pulling a couple of the vehicles out of hard to access locations, bringing them up to the field so the tractor could take them to the edge of the field.
Thank you to Paul Gosling Arborist, who aided us in accessing the 2 vehicles in tricky locations. A few large branches and scrub blocking access were quickly cleared and a path created for the tow teams.
Thank you to Pox Morris, from Cop Stops v2 Whangarei ComunityRelated, who brought his truck with huge loading area which played a huge part in removing over a ton of trash.
Thank you to the other drivers of the vehicles who took loads to the dump throughout the time, meaning we were able to clear almost everything we collected away.
Thank you very much to the neighbor who generously provided everyone that stuck around with Magnum ice creams!
That was a treat, and appreciated.
Event data Sep 2020 – May 2021
| | | | | |
| --- | --- | --- | --- | --- |
| Event | Volunteers | Total removed | Waste | Recycling |
| KNZB Week Mangrove Meander #2 | 53 | 600 | 520 | 80 |
| Porowini Corner | 29 | 1100 | 980 | 120 |
| Wairua Falls Clean Up | 30 | 1220 | 1180 | 40 |
| Hatea Drive Bush | 25 | 360 | 320 | 40 |
| Kirikiri Stream | 10 | 220 | 200 | 20 |
| Tutukaka Lookout | 15 | 880 | 560 | 320 |
| Sea Week Uretiti Clean Up | 21 | 170 | 140 | 30 |
| Parua Bay Community Clean Up | 30 | 260 | 220 | 40 |
| Riverside Drive + Rally event | 20 | 100 | 90 | 10 |
August Pohe Island Mangrove Clean Up 22/08/2020
28 E.N.F.O.R.C.E.E.R.S and collected approximately 800kg of trash, recycling and salvaged items.
Today was the first time we were able to get back out as a group! Covid19 threw us all a curve ball since March, and last month we were meant to do the Whangarei Falls, but the torrential rain and floods kept us away.
We arrived at the site with a beautiful sunny day around us and volunteers appearing slowly from the shared pathway and through the long grass. Everyone signed in and we got underway.
We were pleased to see so many new helpers and to see so many good friends too.
A few of the more curious items we found today were: a bridge – likely from Parihaka or AH Reed, Northland Scaffolding limited safety barrier, a Wilson volleyball with the handprint, rope, 2 mangled inflatable boats, a small bag of cannabis, a poker chip, a dog bowl, a Tiakina Whangarei rat trap housing, a ladder, building lumber, a garden stake, a fender, a small Kauri snail shell, 4 tires, a medical mask, hundreds of Polystyrene balls, lollipop sticks, 28.5 parking tickets and $5 of universe money.
January Puna Rere Drive Clean Up 19/01/2020
15 E.N.F.O.R.C.E.E.R.S collected 260kg of trash which included about 60kg of recycling!
On a beautiful day in Whangarei, we headed into the bush area and road side along Puna Rere Drive. 10 am arrived and our volunteers slowly arrived, on foot, bike, and car.
Some started from the bottom of the hill, heading up the road and a handful pushed into the depths of the bush, battling gorse and asparagus weed.
As the day crept on, we moved the truck down the hill and dealt with another patch, and another until noon.
A few of the more curious items we found today were: a safe, assorted hats, sports balls, a whole rubbish bin, microwave, 2 rolls of carpet, and we even managed to fill up a whole wheelie bin of aluminum cans!
Thank you to our volunteers and sponsors, without you we wouldn't be able to do this great work.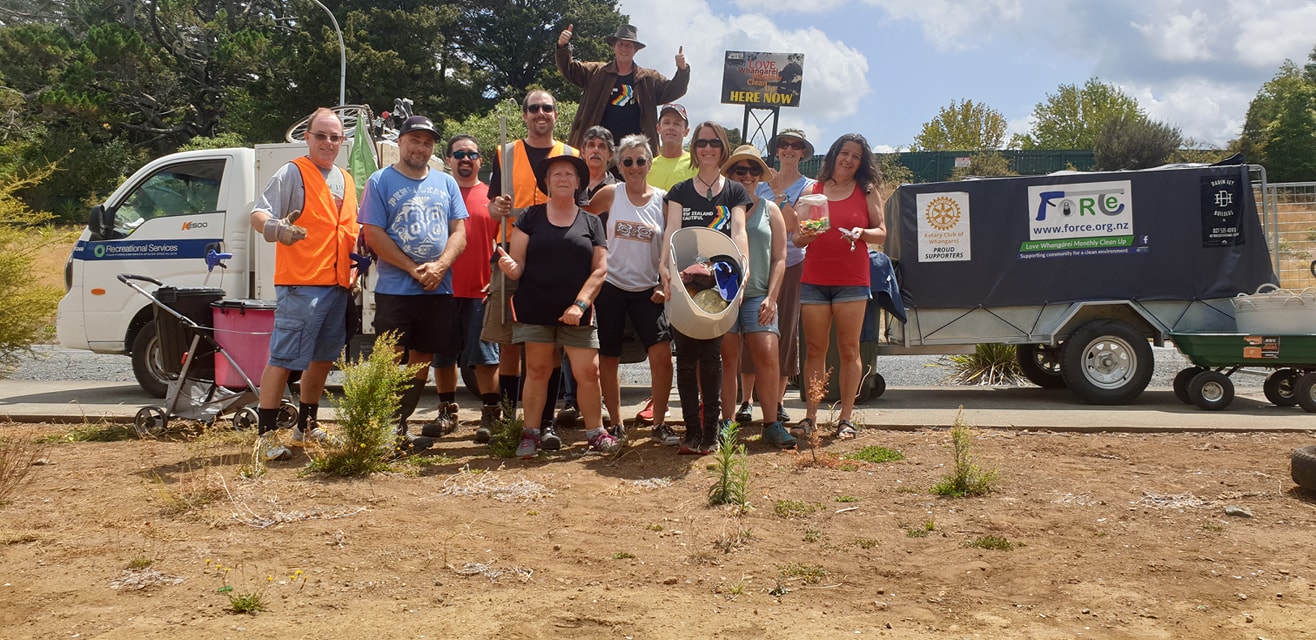 December
Cobham Oval Clean Up 15/12/2019

15 E.N.F.O.R.C.E.E.R.S collected 300kg of trash which included about 20kg of recycling!
We headed down to Cobham oval, near the cricket grounds, to head down the roadsides, footpaths, bush edges, in the drainage channels and along the mangroves.
The waders that Hunting and Fishing Whangarei donated to us came in very handy to filter out many pieces of plastic polystyrene and bottles from the drain before they reach the sea. Missing out on her own pair of waders or gumboots one of the woman opted for buckets to walk over the mud to be able to pick up rubbish and keep her shoes clean.

We found a big pile of plastic from the outside of cables, a large truck tire, a video handycam, exploding eggs (when one was thrown into the back of the truck it popped open and eggshell flew everywhere), old pieces of rail line, a brand new putty knife and a huge pile of cigarette butts.
The children decorated a small pine tree with rubbish that was found around the area, which included bottles barrier plastic and a coat hanger for the star.
Once we finished the clean up, Hell's pizza brought 6 pizzas down for everybody to enjoy. This was to celebrate 1 year of F.O.R.C.E. being a Charitable Trust.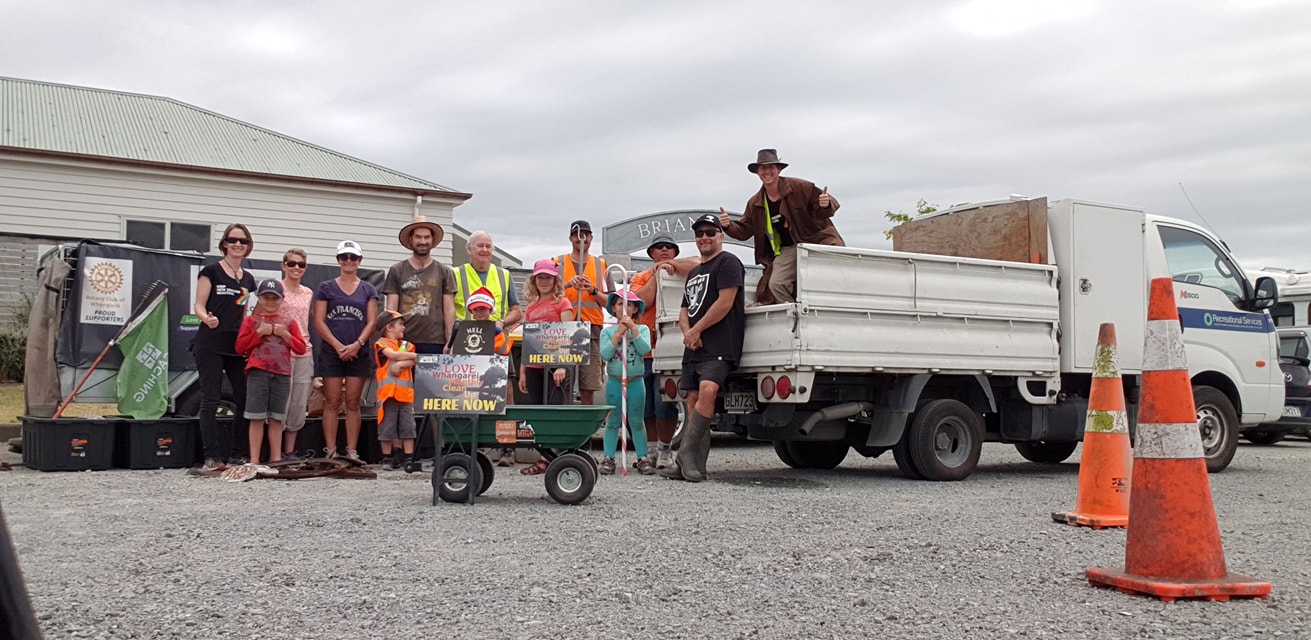 November Memorial Drive Bush Clean Up
40 E.N.F.O.R.C.E.E.R.S collected 820kg of trash and recycling!

This is an area that one of our regular volunteers had been chipping away at for awhile but was finding a lot of rubbish was being exposed as the weeds were being cleared.

A few of the more curious items we found today were: old milk bottles, an UglyBall, fire extinguisher, an old Mangle from a washing machine, old bottles, bags, a 15 year old election sign, many road cones, hub caps, Christmas lights and even a whole family of ducklings!
Thank you to all our volunteers and sponsors, we couldn't do all this great work without you.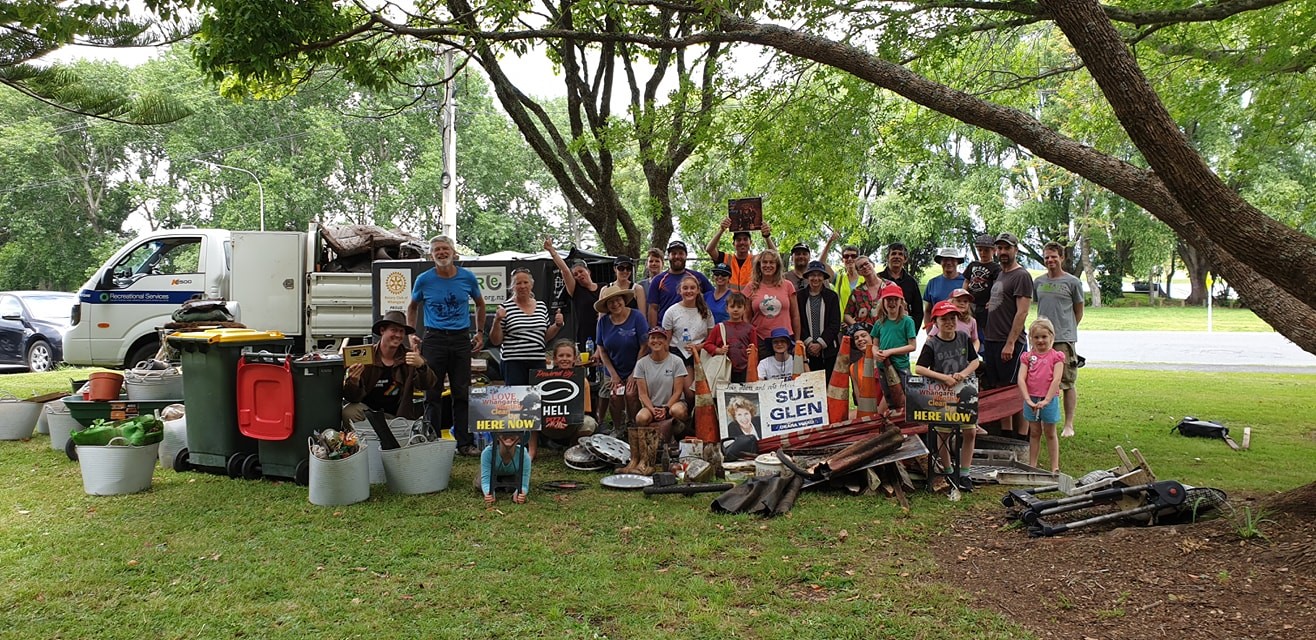 October Tikipunga Bush Clean Up
60 E.N.F.O.R.C.E.E.R.S, about half under 5 years, collected 400kg of trash and recycling!

Tikipunga Kindergarten asked us to help them to clean up some of the bush area behind Tikipunga Countdown where they want to be able to take kids to learn about nature. Of course we said YES!

A few of the more curious items we found today were: a whole birds egg which one of the children made a nest for, steering wheel, window wiper, laptop, boat trailer guide wheel, hockey stick, 2 wallets, a woman's NZRSA badge, insulin needle, clothes, and even one of Chriton Christie's signs that went missing.
The usual suspects were there, food packets, bottles and bits of plastic.
Way to go everyone!
What a day! Great weather, and glad we had plenty of tree cover.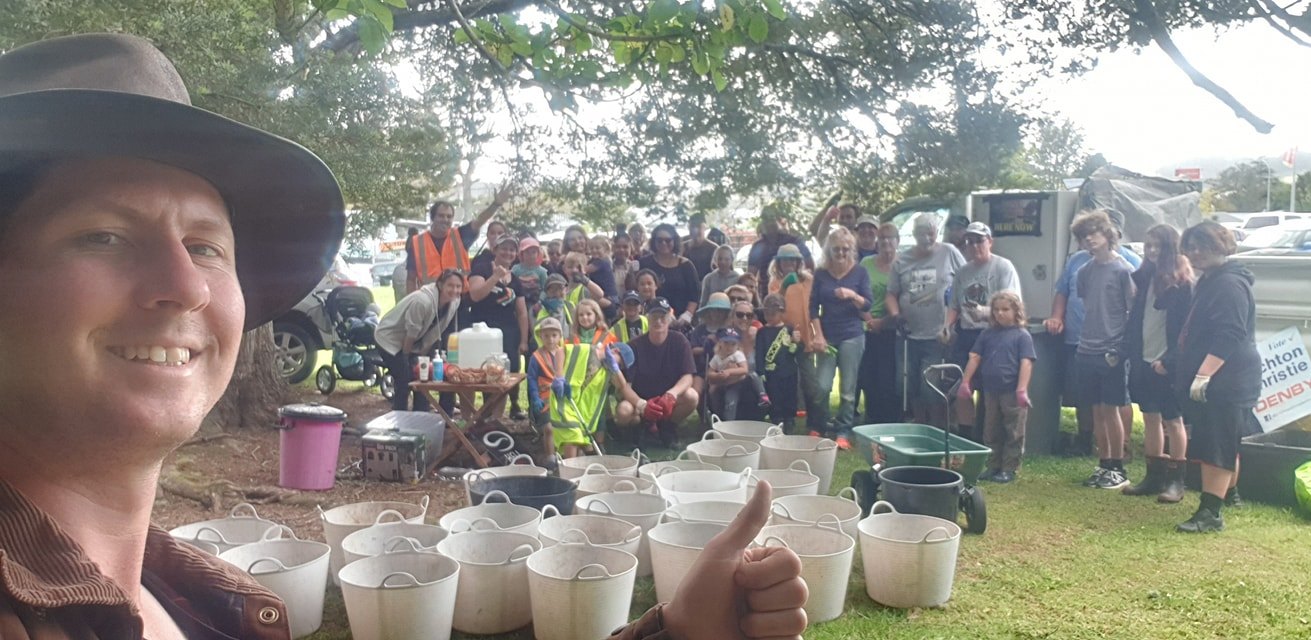 September Riverside Drive Clean Up
21 E.N.F.O.R.C.E.E.R.S collected 260kg of trash and recycling!
With the Sport Northland Events Northcloud Run/walk festival on the next day, we thought we'd clean up a bit of the long track that hundreds of people will be heading past. Today was also #WorldCleanUpDay and #conservationweek seven more reasons to get stuck it.
We started by Easy bean cafe and did around the car park and some around the Whangarei dog park. From here we headed all the way down to Kissing Point Marina where we parked up the truck and started to load what we found in the mangroves and along the side of the road. A few of the team went past Mackesy road and another took his car all the way to the bottom of Onerahi hill.
Countless cigarette butts, bottle caps and a few hubcaps were found along the way.
We found a boogie board, 2 Road cones, a large side of fencing, an umbrella, interesting bottles and a lovely sunny day.
Way to go everyone!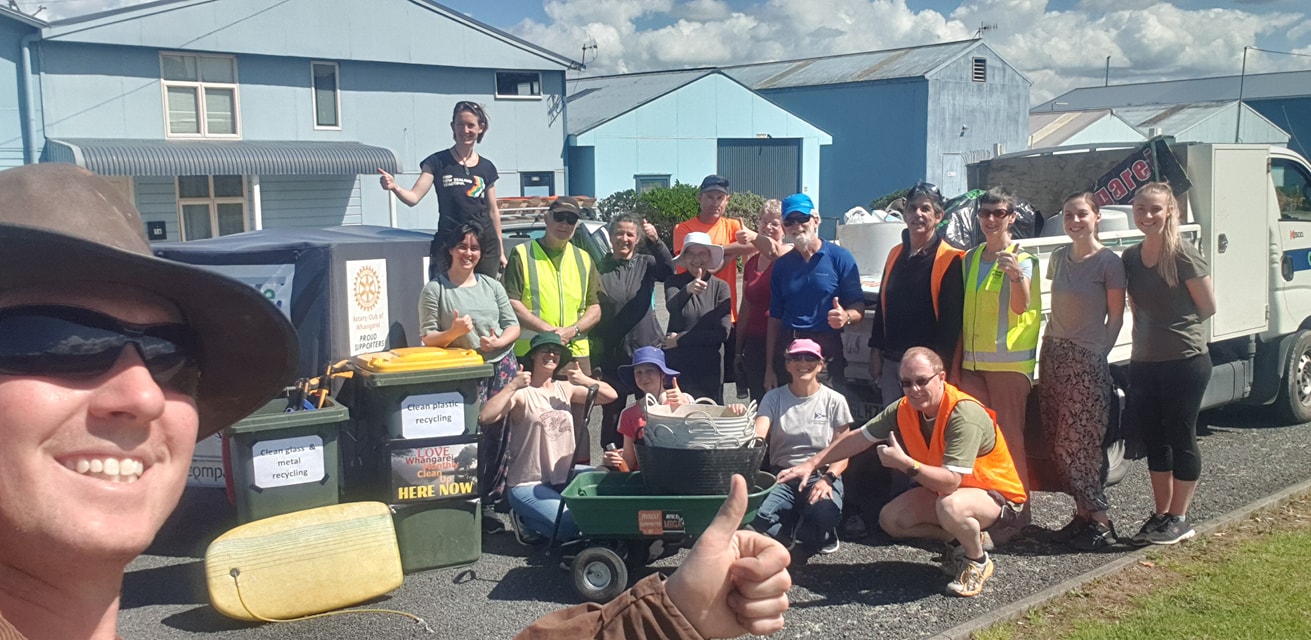 September KNZB Week Raumanga Kaitiaki Clean Up
21 volunteers removed approximately 500kg from the environment and supported the community to fill 3 skip bins as part of the waste amnesty.
Thank you to Whangarei District Council for supporting the community by allowing a skip bin to be used to remove residents rubbish, and for us to use for the rubbish found in the streets.  Thank you to Keep New Zealand Beautiful for the week to bring it to attention. Thank you to Recreational Services for the use of the truck. Thank you to the 2 Northwaste drivers who kept driving constantly between All the clean up events.
Thank you to all of the volunteers who stuck around to help out picking up trash around Raumanga.
Glad we were able to support this rubbish amnesty. Thank you.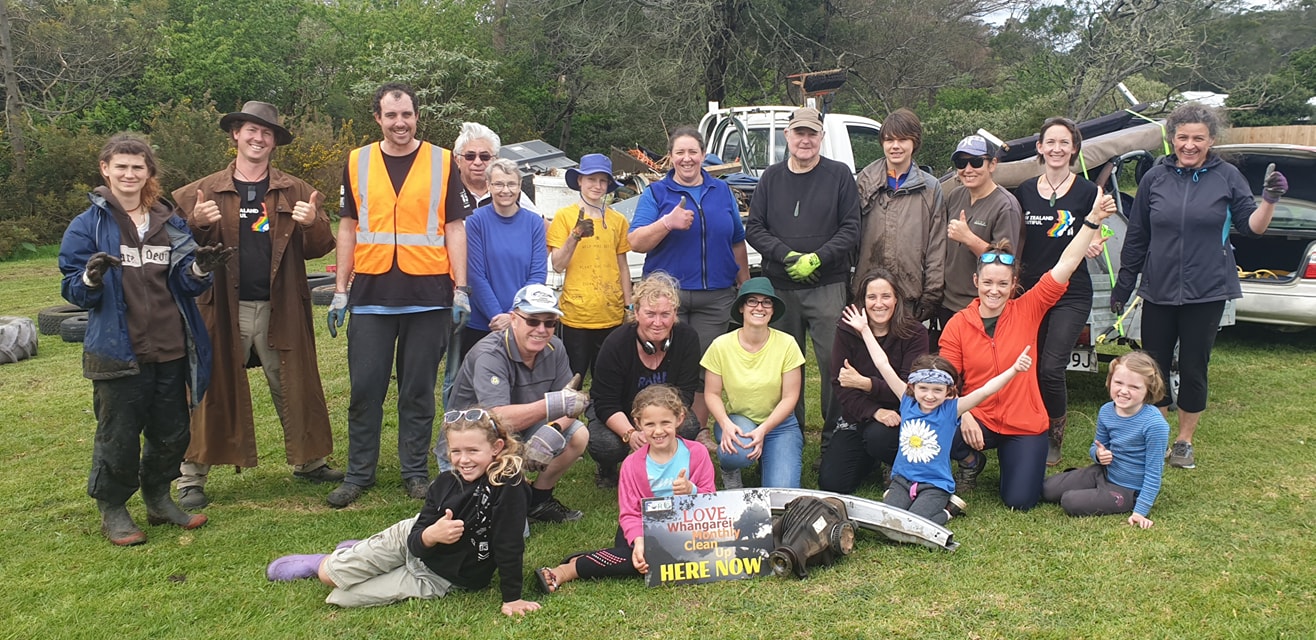 August Boundary Road Hikurangi Clean Up
Today our 21 volunteers collected 1440kg of trash! Including 140kg recycling.
This brings us to 12,270kg removed since October 2017!
This also brings us to over a ton of recycling!
This clean up has jumped to the second largest amount of trash collected by our E.N.F.O.R.C.E.E.R.S! Way to go everyone!
What a day! Great weather, great help and so much trash! 2 truck loads and a trailer of recycling.
It was only 30 mins into the event when the truck was almost at full! Yet there was so much more to be collected . Whilst hunting through the area we came across so many household items. A full dinner set which included plates cutlery and glasses, a jar of sugar, number plates, children's chairs, old TVs, 21 tyres, four couches, a few animal carcasses, hundreds of bottles and cans, printers, record player, some of a hot water cylinder, "Cars" movie police car and even part of a gun!
July Denby Reserve Planting and LWMCU
We had 45 volunteers come together today in Denby Reserve off Puna rere drive. We planted 490 trees and plants and then picked up around 500kg of rubbish and recycling.
We made short work of the plants, we were done by 10.30 and were able to get stuck into doing the clean up. After only an hour, we had picked up a full truck load and full bins of recycling. A few were digging things out of the ground, while some hopped in the streams and fished out items from the deep.
As we finished the planting the rains came down! We all huddled in the shelter and Laura from Forward Whangarei turned up with the meals provided by Palate Wholesome Collective. A great day, thank you to everyone who supported this event celebrating the work of the New Zealand Defense Force.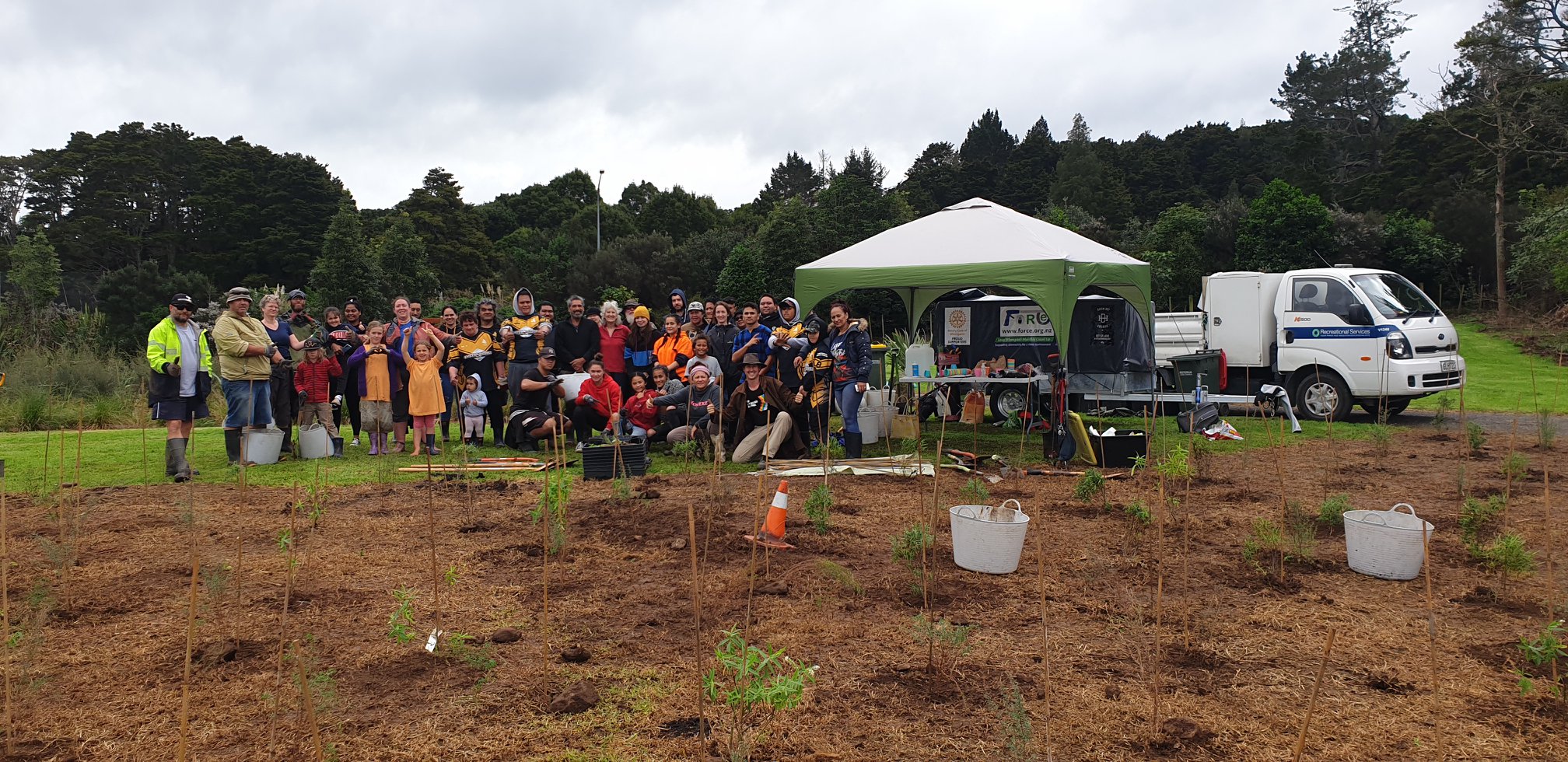 June LWMCU Parihaka Summit
30 E.N.F.O.R.C.E.E.R.s made Parihaka summit 840KG lighter!
Within the Rubbish, Recyclables and Reusables were 20 tyres, a computer, an old melted rubbish bin , a stereo, an old pottery jug, a toaster, old rip top cans, old leeds and coke bottles, a barrel of oil, a car spring, a plank of heavy wood, a necklace, an old sign and 260kg of bottles and cans.
Thank you to Rotary for donating the trailer, it came in extremely handy today, for the recycling.
Thank you to all those who support our efforts to clean up our home.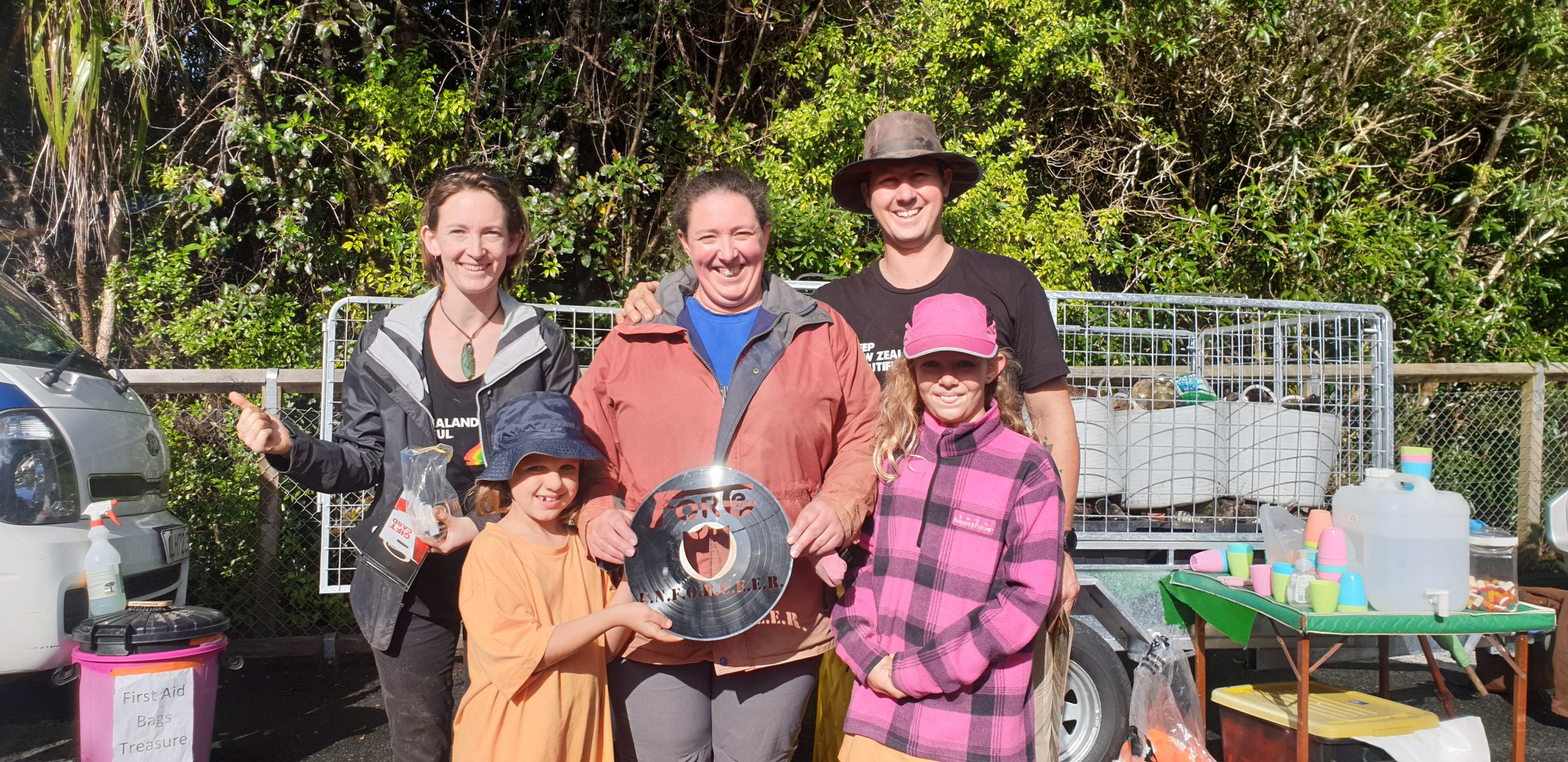 May the Fourth 2019 Northtec planting and LWMCU
We got to 35 E.N.F.O.R.C.E.E.R.s today.
Collecting trash and planting.
The planting and mulching only took a short time with the solid ground, many hands made light work.
We then made a move to the top car park where we head to the roads and pathways to collect what we could find. Getting stuck into neighbor's properties and bushes too.
There was all sorts collected with 120kg being removed, including a few tyres, a TV, a heater, a bread knife, a child's number play mat, and assorted other items.
When we finished the clean up we headed back to the main planting area as we got 10 delicious pizzas from Hell Pizza Whangarei, so that we could all share a meal afterwards together.
May the Fourth be with you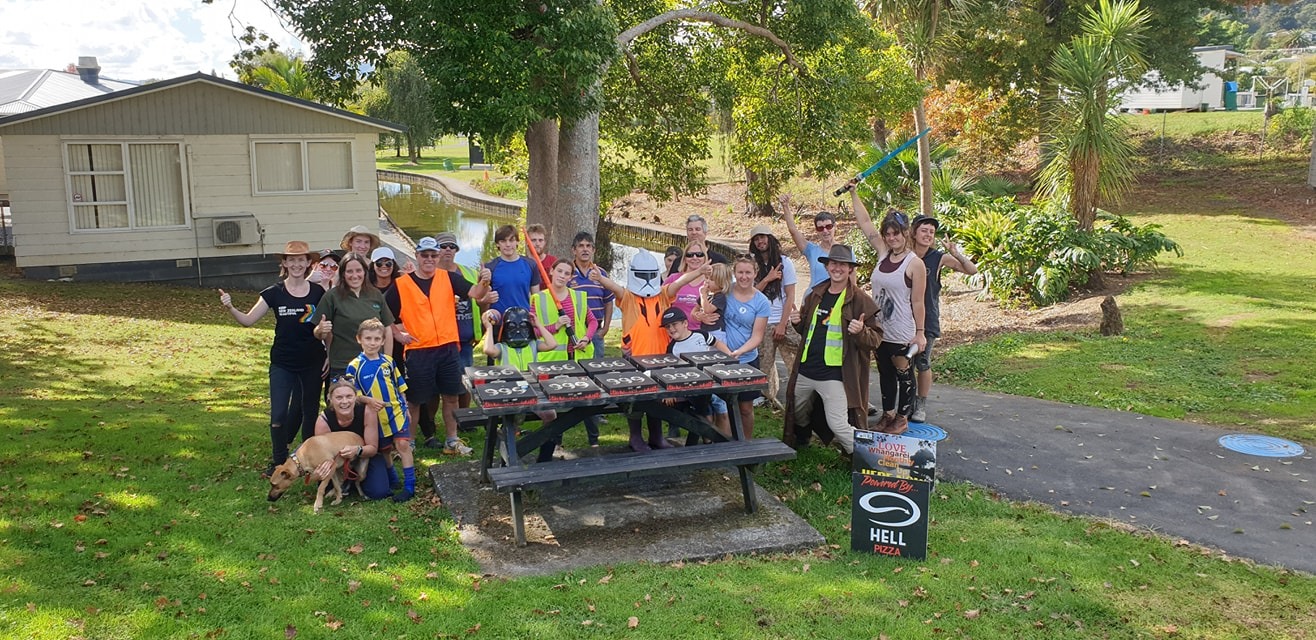 LWMCU Dragonfly Springs Saturday 13th April 2019
Today was a little different than our usual events.
We headed down a back road in Onerahi to find Dragonfly Springs Wetland Sanctuary (DFS).
The location, a pile of trash that rental tenants had thrown over their fence over a few years.
The area is a storm water filtration system, with storm water passing through rocks and filtering through plants, then out to sea.
We had 29 E.N.F.O.R.C.E.E.R.s up the hill sifting through to find the bits of trash strewn through the area.
Today wasn't a huge area, but what we removed was way more than it first appeared to be.
We collected approximately 400kg of trash!
There was plenty of fliers, toys, a few tools including an Oxy/acetylene torch head, general waste, and a few clothes, and as pointed out by the children a few bras👙.
When we finished the clean up, we all headed into the shade of their shelter for a coffee and home made biscuits, made by Pam, of DFS.
Jeremy then took us around DFS for an informative guided tour.
Thank you to all those who came to support our efforts to clean up our home.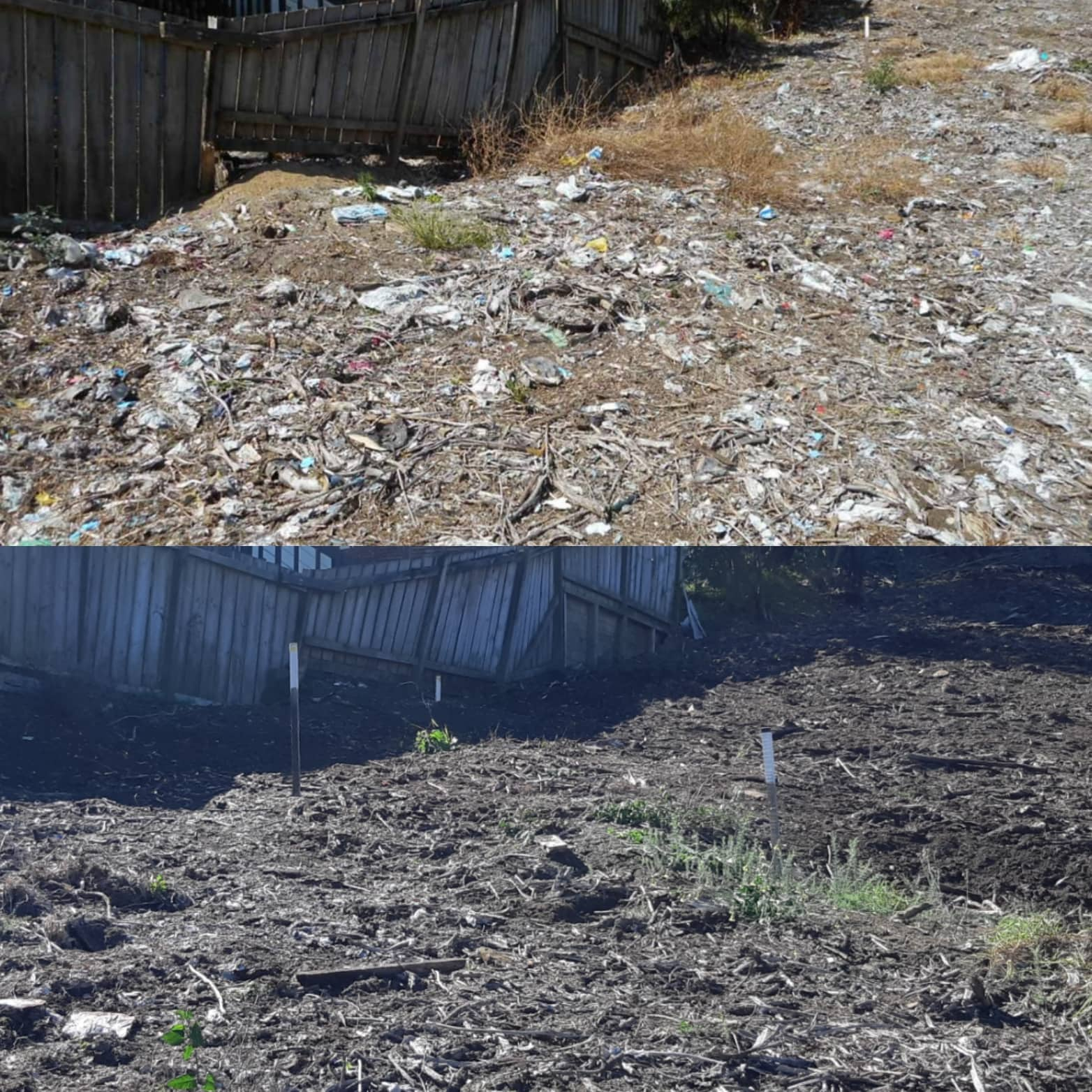 Gumboot Loop for Gumboot Friday 5th April 2019
Tonight we joined together to support Mike King with I AM HOPE NZ on #GumbootFriday, to do the first Annual #GumBootLoop.
We were blown away by the awesome turn out tonight.
The Whangarei community pooled together at this event and raised $1517.37 (see what I did there😉… txt or call 1737 if you ever need help).
If you couldn't make it along but want to support, head over to:
https://www.iamhope.org.nz/donate
Those who registered their numbers were counted and we had over 400 attendees who were chomping at the bit to get going, which made for less congestion along the track.
This included people of all ages and 9 Dogs!
Thank you to all those who supported us with the event.
More FM Northland 91.6 who were going to give us some music, but due to some technical malfunctions were unable to do so.
Thank you Toast for guarding the Donations while we walked the loop.
The Dump Truck for turning up and giving people a place to remember and pay respects.
NZ Safety Blackwoods for letting us use one of your Piggie-Boots to collect the donations.
Hot Printz Screen Printing Whangarei for donating two of your #IAMHOPE #gumbootupnz shirts to use as spot prizes.
Thank you very much for supporting us to support our young New Zeanders.
Let us bring more awareness and support so those who need it. Together we CAN make a difference.
Link to the 2020 Gumboot Loop on Gumboot Friday:
https://www.facebook.com/events/406716130140808/?ti=cl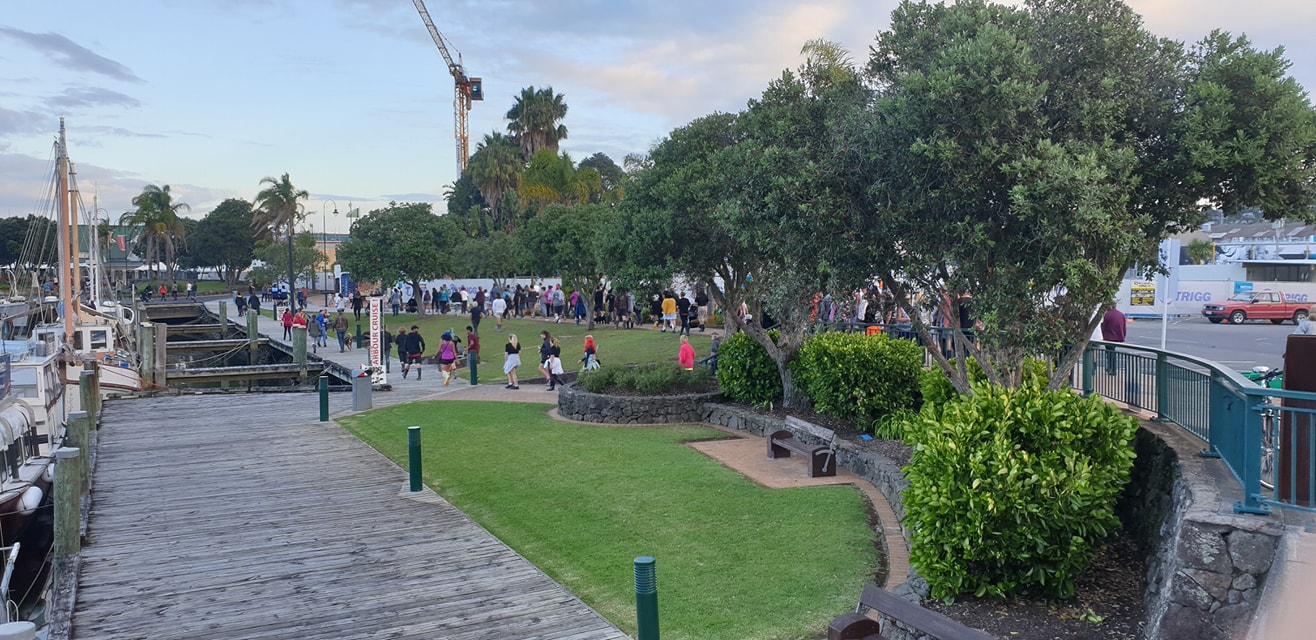 Seaweek Ngunguru Snell Point mangroves 9th March 2019
28 E.N.F.O.R.C.E.E.R.s got stuck into the bush down the side of Snell Point mangroves at the entry to Ngunguru. Searching for trash within the mangroves, around the hall, along road sides, and along the beach.
Within the rubbish collected today we found 2 deck chairs, a stroller, teapot, blue glass bottle, 1 gallon bottle, a pile of wood, 3 tyres, pipes, an old road cone, nerf bullets, plenty of tennis balls, a large battery, bicycle helmet and even a toilet arrow sign!
We collected a combined rubbish and recycling of 340Kg today!
Thank you to all those who came to support our efforts to clean up our home.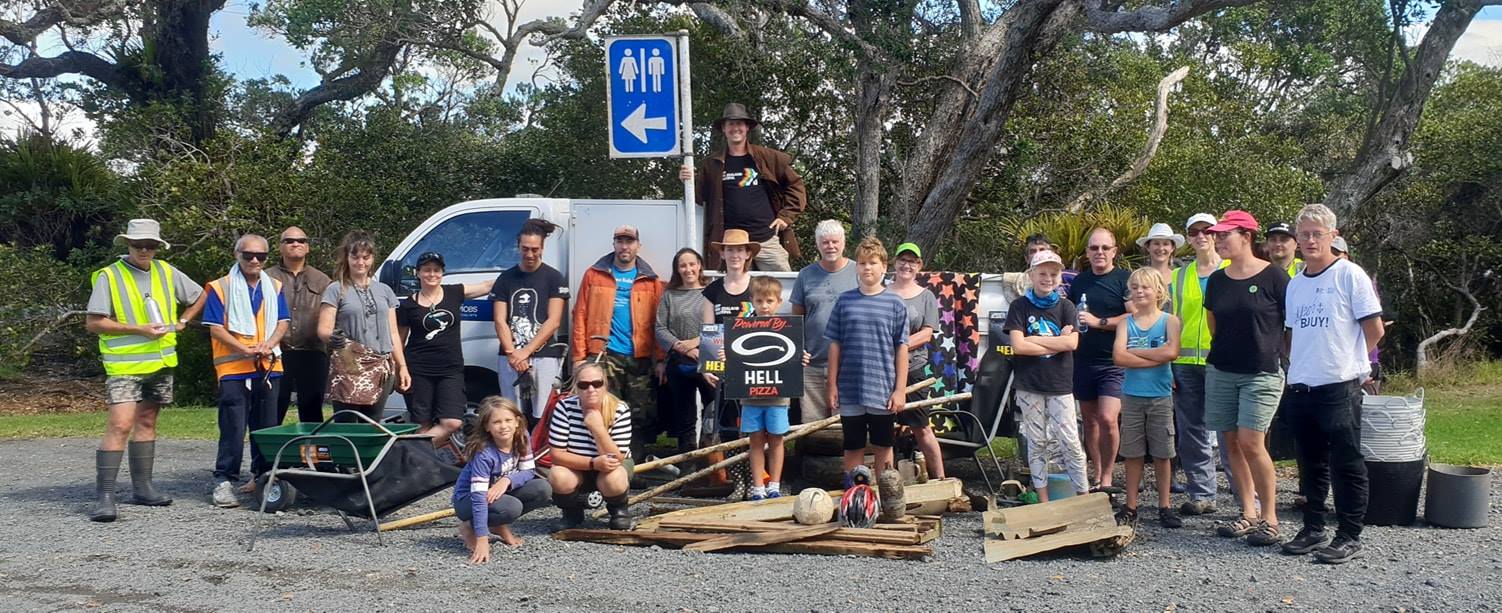 Mackesy Road Sunday 10th February 2019
Today a group of E.N.F.O.R.C.E.E.R.s got stuck into the bush down the side of Mackesy Road. Searching for trash within the bush area below, along road sides, and along the beach.
A brief shower prior to the clean up dispersed quickly before we all good stuck in.
Another warm day today with a lot of hill climbing! Gratefully the was plenty of bush to keep the team shaded.
Great to see 36 awesome volunteers today!
Including some of our sponsors from Onerahi New World
Another location similar to our last with rubbish within the trees. So while branches held us back, they also helped as we scaled the hillside, which slopes were around 50° in parts if not more, with the rain making it a tad slippery.
Within the rubbish collected today we found around 16 tires, 2 pig skulls, a small China dog, 3 vials of used Needles, a letterbox for No.36, engine parts, an extension cord coil, marina pole mooring floats, a bag of paint chips, disposed papers and pamphlets from 2 years ago, and old packaging from well known brands.
With the amount we collected once again we needed more than one truck, so thank you to Wade for bringing your trailer to cart away the recycling.
We collected over 660kg of trash and 160Kg of separated recycling. So 820Kg today!
Thank you to all those who came to support our efforts to clean up our home.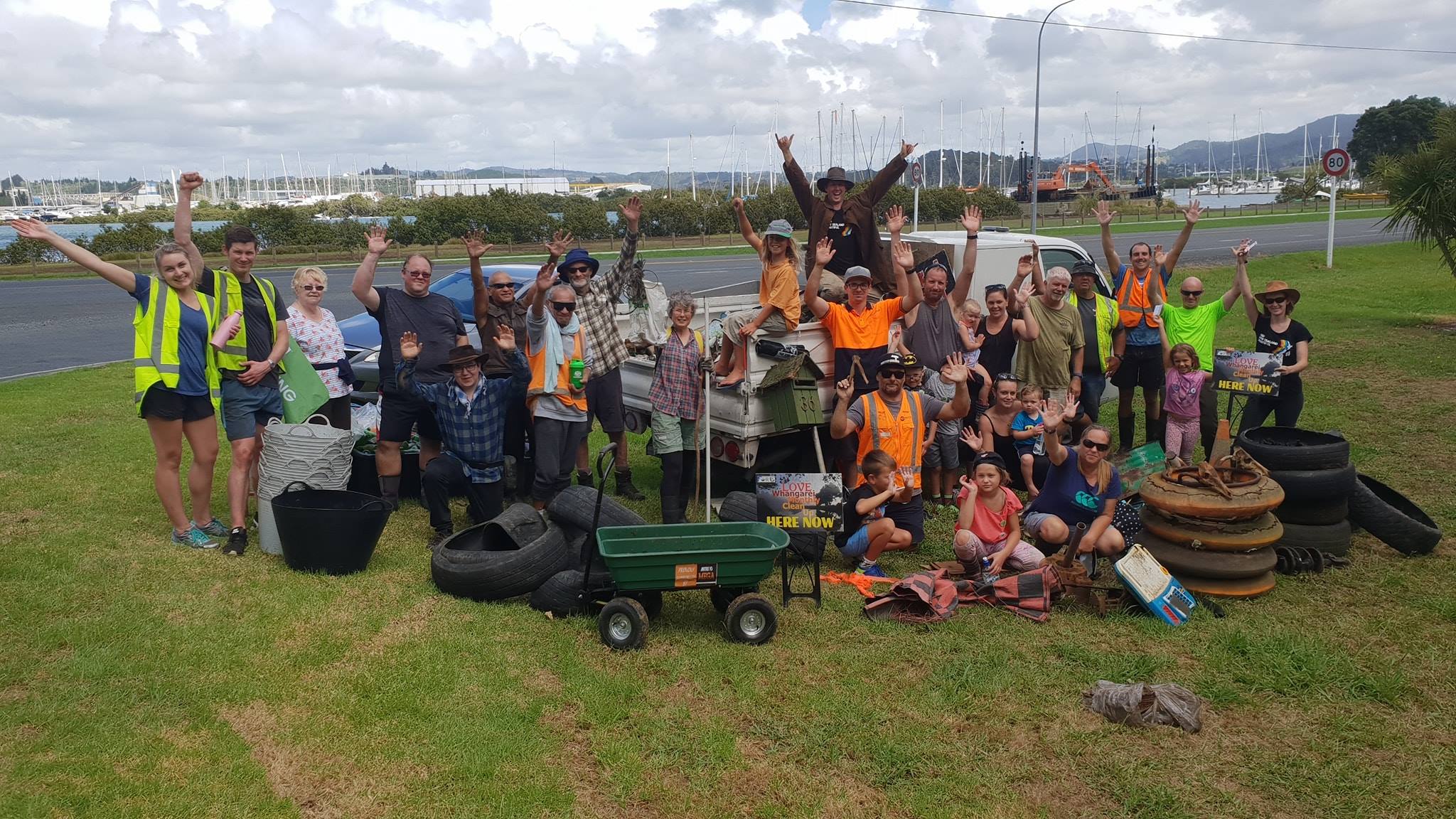 Onerahi Lookout Saturday 19th January 2019
34 E.N.F.O.R.C.E.E.R.s got stuck into the Onerahi Lookout. Searching for trash within the bush area below, along road sides, and along the beach and collecting literally a TON of rubbish!
What a great start to the year!
A beautifully warm 28°C day with people coming from near and far.
Fortunately a huge portion of the rubbish was within the trees so we had some shade while we got stuck in, but it was a blessing and a curse while branches held us back as we tried to escape, but also helping as we scaled the hillside, which slopes were around 50° in parts if not more.
One local, Wade, came prepared! He brought with him a few buckets and even a harness and ropes to hold himself on the bank! Way to go!
Among some of the usual trash were collected we found a few interesting finds.
5 tyres, 4 TVs, an old rusty lawnmower, a huge jar of safety glass, a huge amount of a car body metal, an old car seat, old bottles and can's, 2 computers, a keyboard, underwear, soft toys and dolls, scanner, 3 hot water cylinders (without insides), old rubbish bins, beach umbrella, and 3 bags of oyster and (undersized) Paua shells that easily could have gone back on the beach to be able to go back into the ecosystem.
We weighed the rubbish at 1040KG! and 100Kg of separated recycling.
Thank you to all those who came to support our efforts to clean up our home.
Thank you to Onerahi Coast Line Action Group (OCLAG) for clearing the weeds below and exposing more of what we knew was there. They also have planted up most of the hillside we were working as well.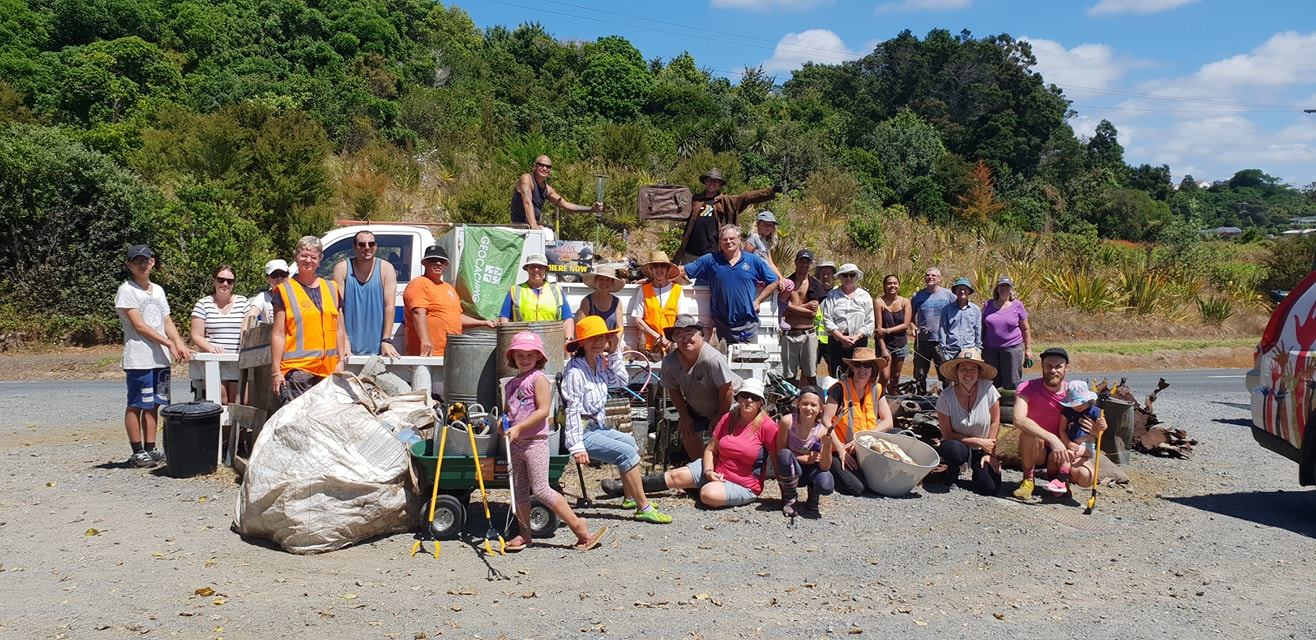 Waipu Walkabout Sunday 16th December 2018
A group of 22 E.N.F.O.R.C.E.E.R.s got stuck into the hidden areas, parks and road in Waipu.
A beautiful day with people coming from all over. We had people coming from Whangarei, Waipu and even Auckland to help today.
Supporting Waipu Evolution we were enlisted to get a local clean up started.
22 volunteers collected 80kg of rubbish and recycling today. Most hidden from view in tucked away corners. 13 bags plus recycling.
We lost a pair of sunglasses and found a different pair and even a packet of chips from 2003.
It's not the biggest amount, but it's still great to get it out of the environment and a good cleanup before the soon to be held, highland games held in Waipu each year.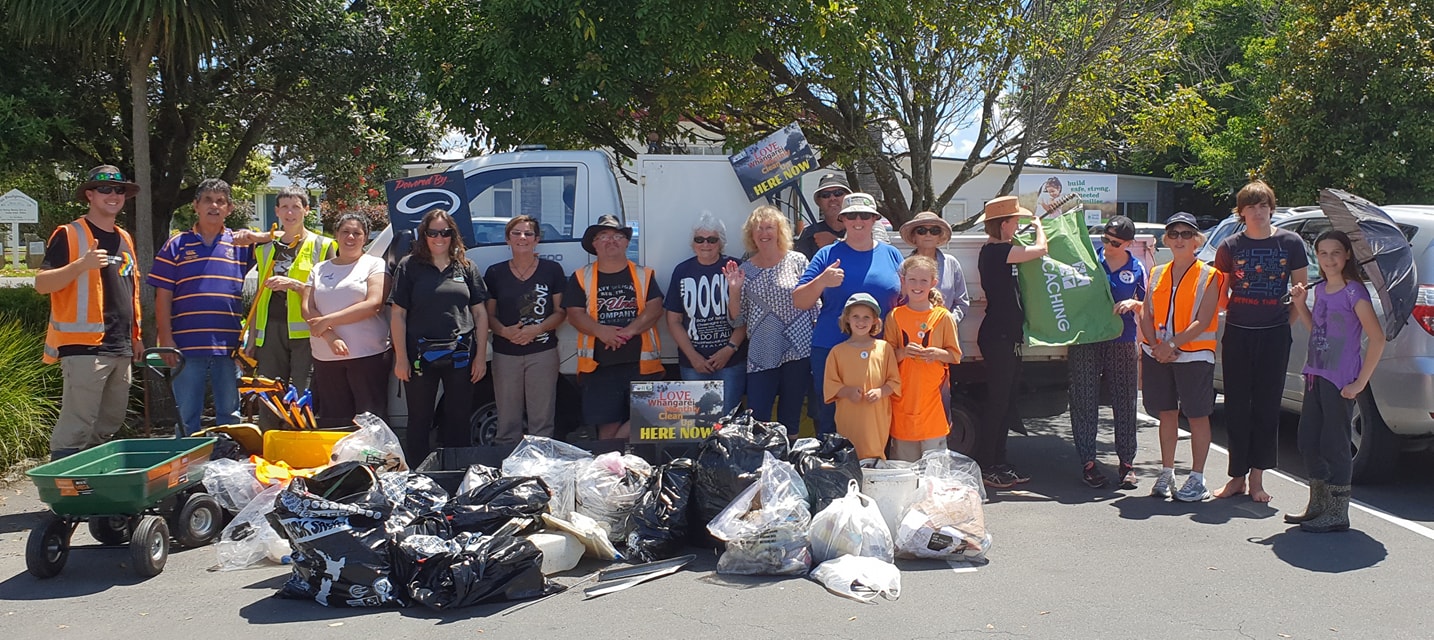 Tauroa Street Bush Clean up 10th November 2018
35 fantastic volunteers got stuck in filling a skip bin with over a tonne of rubbish in 1 hour! They didn't stop there continuing to remove all sorts of waste from the bush area and stream as well as the road sides. Another 320kg was removed by NorthlandWaste and a truck load by F.O.R.C.E. taking the total removed from the environment to an amazing 2 tonne!
This is an area we have been meaning to get to for a while having heard stories about the amount of household rubbish dumped here. You can see our post about what the area looked like before here.
It was a beautiful day with people coming from all over the world. We had neighbors coming over to support, we had other locals and even had 4 ladies from Sweden visiting NZ come along and help out.
We managed to remove most of the 60+ bags we found, as well as so much more along the bush area…
TV's, computers, beds, bunks, mattresses, rubber ducky, bumpers, tyres, 2 swimming pools, a pump, 2 driers, baby buggies, exercise equipment, bbq, bicycles, plenty of car parts, golf balls, microwaves, couches, chairs, soft toys, clothesline, car springs, toy gun, and more!
One of the volunteers also took away a seat that was found to upcycle and reuse. 👍
We once again "built a car" around the skip bin because we found so much. Even a trailer down the road!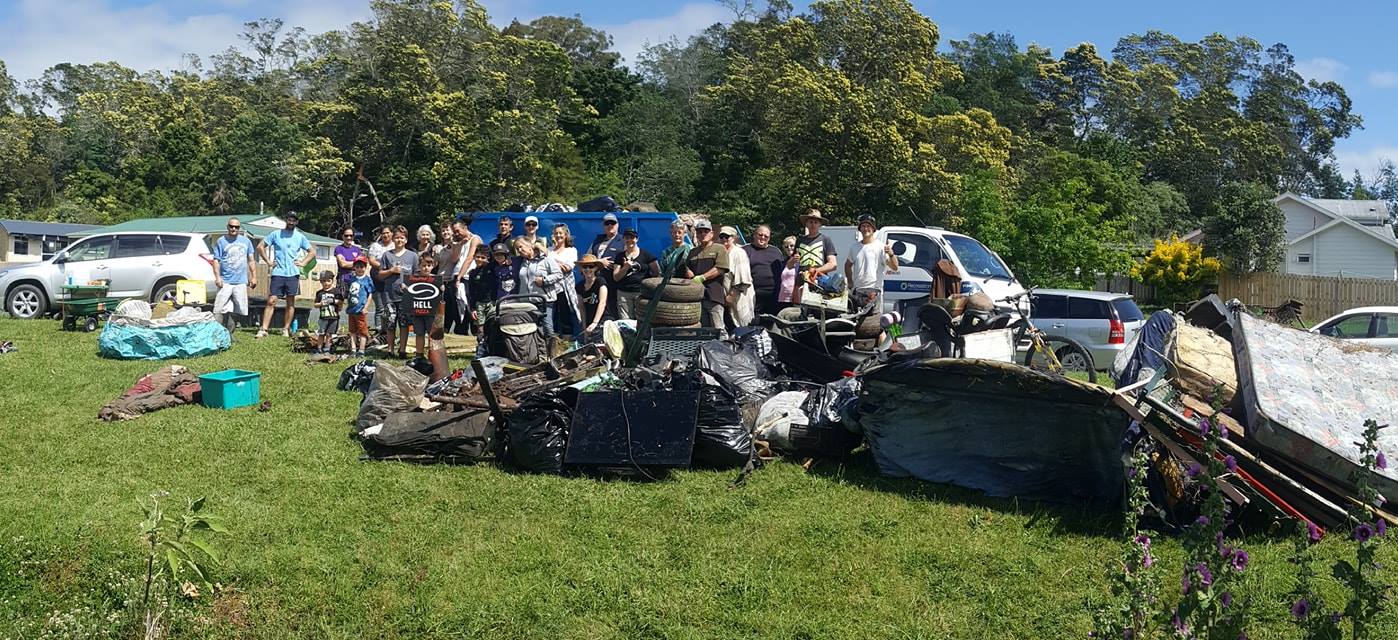 Onerahi Beach Clean Up 7th October 2018
This month 35 returning and new E.N.F.O.R.C.E.E.R.s (Enthusiastic, Neighbor, For, Our, Real, Clean, Environment, Eradicating, Rubbish) removed 380 kg of rubbish and recycling from the end of Pah Road, the beach and the tidal island known locally as Barge Island.
Maneuvering through mangroves, digging themselves out of the mud, combing the beach and out towards the small Mangrove Island in the middle the low tide area.
Amazingly the tyres just kept on coming and coming! Resulting in collecting 12 tyres over the whole event. Approximately 30 bags and even a trash can were also removed.
We found many curiosities this time.
Someone found a Buzz Lightyear action figure, a BBQ plate, a pocket knife, a spade lost in the middle of the mud, a set of overalls that had been filled with rubbish (by a fellow geocacher who cleaned up a day early), as well as the most peculiar find: a Zunibal Buoy which is a satellite tracking and monitoring buoy for sustainable tuna fishing!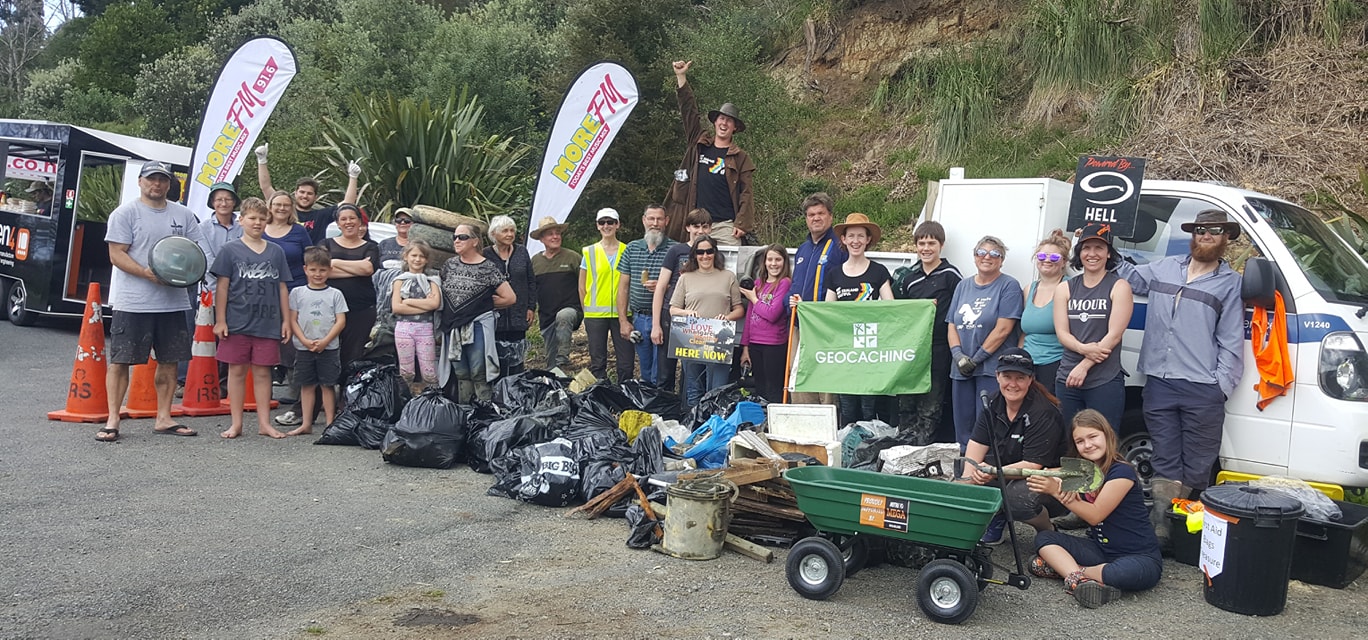 Otangarei Clean Up and Commemorative Planting 15th September 2018
As part of Keep New Zealand Beautiful Week the Love Whangārei Monthly Clean Up took place at Denby Reserve/Fishbone Park Otangarei. 80 fantastic supporters from the Whangārei community helped clean up and beautify our environment by pitching in to remove 600 kg of rubbish and plant 700 plants.
These plants will create a living tribute to those who have served and continue to serve New Zealand in the Defense Force.
This event was a collaboration between For Our Real Clean Environment (F.O.R.C.E.), Whangārei District Council, Tu Rākau through their Matariki Tu Rākau commemorative community tree planting programme. With support from Whangārei RSA, Whitebait Connection, Keep New Zealand Beautiful and many other supporters. You can read more about this fantastic event here.