Recycling and upcycling (kg)
About For Our Real Clean Environment
F.O.R.C.E. is a charitable trust aiming to empower the Whangārei district community to protect the natural environment through environmental and waste minimisation projects.
The organisation was formed in mid 2018 by Karen Lee and Nicholas Connop, a.k.a. The Whangārei Rubbish Wrangler. The pair have been organising the Love Whangārei Monthly Clean Ups since February 2018 and wanted to expand the type of projects they organise and support.
* The trust hope to build on what we have already begun and expand into other areas;
* Grow the clean up events and help others in their efforts.
* Work with other organizations to be able to gather data for statistical analysis.
* Providing education and equipment for local waste minimisation

* Encourage; community, upcycling, education, alternative and events.

Because it's All of OUR Home.
Because it's ALL of Our Future.
Because we've only got this ONE Earth.
Because we ALL need to make a difference
Why do we do it!? For Our REAL Clean Environment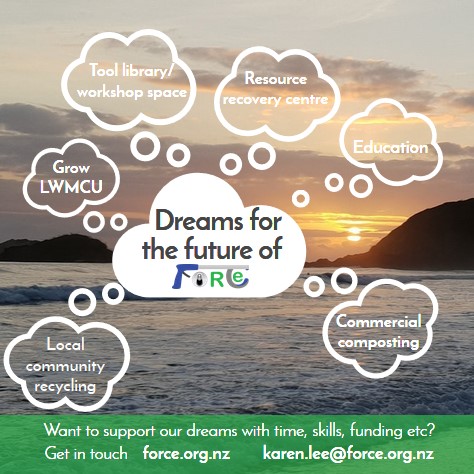 Want to help us achieve more? Join our mailing list to keep up to date with events.

KNZB Week – Cross Street Cross Roads Clean Up

Saturday 17th September 2022
10am until 12pm
Meeting at Cross Street, Regent
Cleaning along Kamo Shared Path
For Keep New Zealand Beautiful Week this year we are doing a litter audit along part of the Kamo Shared Path.
We want to bring awareness to the local businesses, schools and residents about how much and what type of litter is ending up in the environment.
We will have volunteering opportunities for a mix of abilities with mixed terrain as well as litter sorting and can crushing to do at the trailer.
We will supply gloves, buckets, bags, highvis, sanitizer, sunblock, firstaid and water.
You need to bring sturdy shoes and motivation.
Please note if you are attending the event, we are being asked to advise everyone; Stay home if ill – or been asked to isolate.
Please park up courteously and leave some spaces for those who are visiting the location.
Got a question, idea or location that needs some love?
You can email us: karen@force.org.nz