Recycling and upcycling (kg)
About For Our Real Clean Environment
F.O.R.C.E. is a charitable trust aiming to empower the Whangārei district community to protect the natural environment through environmental and waste minimisation projects.
The organisation was formed in mid 2018 by Karen Lee and Nicholas Connop, a.k.a. The Whangārei Rubbish Wrangler. The pair have been organising the Love Whangārei Monthly Clean Ups since February 2018 and wanted to expand the type of projects they organise and support.
* The trust hope to build on what we have already begun and expand into other areas;
* Grow the clean up events and help others in their efforts.
* Work with other organizations to be able to gather data for statistical analysis.
* Providing education and equipment for local waste minimisation

* Encourage; community, upcycling, education, alternative and events.

Because it's All of OUR Home.
Because it's ALL of Our Future.
Because we've only got this ONE Earth.
Because we ALL need to make a difference
Why do we do it!? For Our REAL Clean Environment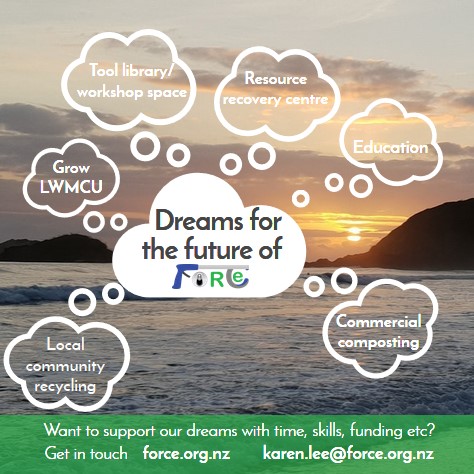 Want to help us achieve more? Join our mailing list to keep up to date with events.

April Tarewa Stream Clean Up

Saturday 30th April 2022
10am until 12pm
iSite 92 Otaika Road, Raumanga
This event will be hosted along the streams of Tarewa park.
If you have gumboots or waders, they will come in handy. Alternatively, shoes that you can get wet waking in the stream.
We will be meeting up in the info Center car park. There is more parking down the nearby road.
We will supply gloves, buckets, bags, highvis, sanitizer, sunblock, firstaid and water.
You need to bring sturdy shoes and motivation.
Please note if you are attending the event, we are being asked to advise everyone;
Stay home if ill – or been asked to isolate.
Got a question, idea or location that needs some love?
You can email us: karen@force.org.nz
A Special Thanks to Our Sponsors